FREQUENTLY ASKED QUESTIONS
Answers to our most frequently asked questions can be found here.
If you can't find the answer you're looking for just contact us.

WHEN SHOULD I BOOK THAINTRO?
You can book with us right up until before you leave. However groups fill up fast, so it's best to book as early as possible to avoid disappointment. You can secure your place by paying a $200 deposit.
DO MANY PEOPLE TRAVEL ALONE?
Yes. Lots of people who go to Thailand are travelling solo. But by doing ThaIntro you'll be part of a group, so it's a great way to meet people and make friends!
WHAT HAPPENS IF I ARRIVE BEFORE MY THAINTRO START DATE?
It's a good idea to try and arrive on the actual ThaIntro start date. There's no activities on the first day, so you can arrive at any time. If you do arrive early we'll still pick you up from the airport and will book you into the guesthouse from the day you arrive. Extra nights will be approximately $30 per night and can be paid for on arrival.
If you're arriving more than 2 days before your ThaIntro start date your Group Leader may not be available to pick you up, so we can either provide you with detailed instructions on how to make your own way to the guesthouse or we can arrange a private Thai taxi pick up.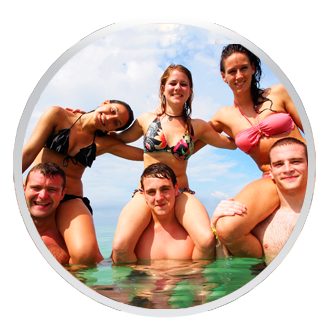 CAN I CHAT TO MY GROUP BEFORE I ARRIVE?
Yes. You can chat to your group on the Intro Travel Facebook Page. Just click on the 'Meet Others' button and choose your start date. If you're using a phone or tablet you'll need to download the
TourRadar Meet Others App.
WHERE DOES THAINTRO FINISH AND WHERE DO I GO FROM THERE?
ThaIntro finishes on the beautiful island of Koh Phangan in the south of Thailand. If you're staying on longer in Thailand then don't worry, your ThaIntro Group Leader will help you organise all of your onward travel including any of our awesome Add-on Trips.

If you're only in Thailand for a short time or plan to leave Thailand straight after ThaIntro and need to get back to Bangkok to return home, here are your options:
- The quickest way back to Bangkok is by taking a short 45 min ferry ride from Koh Phangan to the neighbouring island of Koh Samui and then a 1-hour flight back to Bangkok. Total travel time is approx. 3 hours. Remember to leave enough time for connecting to your international flight out of Thailand! There's no need to pre-book the ferry to Koh Samui, however you may want to consider pre-booking the flight to ensure you get the best price. This will cost approx. $150.
- The second quickest and most popular option is to take a 3–hour ferry to Surat Thani and then a 1-hour flight back to Bangkok. This will cost approx. $60. Total travel time is approx. 6 hours.
- If you have more time you can do the overnight train back to Bangkok. This will take approx. 15 hours in total and cost approx. $30. Your Group Leader can help you book this in Thailand.
WHERE DOES THAINTRO + PHI PHI ISLANDS FINISH AND WHERE DO I GO FROM THERE?
If you're doing the ThaIntro + Phi Phi 12-day trip you will finish on the beautiful Phi Phi Islands. You can choose to stay on longer in Phi Phi or if you need to get back to Bangkok the quickest option is to get a ferry to Phuket or Krabi and then a flight back. The earliest the Phuket or Krabi to Bangkok flight should be booked is 7pm on day 12. The ferry can be booked locally and the flight can be booked with a variety of airlines including Air Asia, Nok Air & Bangkok Air.
Your ThaIntro Group Leader will ensure any other local transport is sorted and you are comfortable with all parts of your trip and your onward travel.
WHEN IS THE BEST TIME TO VISIT THAILAND?
The great thing about Thailand is it's usually hot all year round, so it's great to go at any time. There is slightly higher chance of rain in October and November, however due to the climate being tropical it usually only rains for about an hour in the afternoon and can be a nice relief from the heat.


IF I'VE ALREADY BOOKED MY FLIGHT CAN I STILL BOOK THAINTRO?
Yes. As long as you're in Bangkok on one of the start dates you can book with us.
DO I NEED TO BOOK MY FLIGHT BEFORE I BOOK THAINTRO?
No. You can book ThaIntro and then book your flight. Try and arrive on the actual start date as most people find that spending more than a couple of days in Bangkok is too long. Also, there are no activities on the start date, so you can arrive anytime and you won't miss a thing!
CAN I ARRIVE IN THAILAND ON A ONE-WAY TICKET?
Depending on which airline you fly with or who you meet at Immigration when you land, there's a small chance that you might need to show proof of a ticket out of Thailand. If you don't have a return ticket or onward flight already booked you can always wait to see if you are asked and then buy a cheap flight or bus ticket out of the country, even if you're not planning on using it.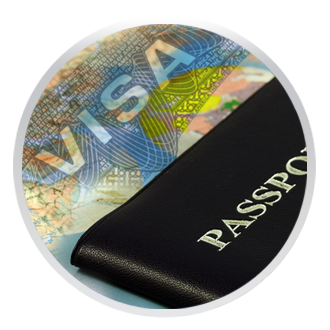 DO I NEED A VISA TO ENTER THAILAND?
Most nationalities including the UK, Europe, Australia, NZ, Canada, USA, Scandinavia and Brazil will usually receive a 30-day visa exemption on arrival for free.
If you would like a longer tourist visa or are not eligible for the visa exemption you can apply for a visa at your nearest Thai consulate prior to entering Thailand. If you're unsure of your visa requirements or need any help just contact us.
HOW MUCH MONEY WILL I NEED?
All of your activities, accommodation, transport and some meals are included with ThaIntro, so you'll just need money for some meals, drinks, shopping and any onward travel. We recommend you bring at least $300 spending money for ThaIntro.
WHAT'S THE BEST WAY TO ACCESS MY MONEY IN THAILAND?
It's best to take a Visa or Mastercard debit or credit card, or a travel money card with you. With a back up PIN protected card to keep elsewhere (e.g. with your passport) in case you lose the primary one. There are ATM's and money exchanges available throughout Thailand so it's easy to get access to cash. Traveller's cheques are not recommended as they are not accepted everywhere and carrying large amounts of cash is not recommended.

WHEN IS THE FULL MOON PARTY AND HOW DO I DO IT?
The Full Moon Party is every 28 days when the moon is full. Full moon dates can be found here. ThaIntro finishes at the amazing 'Sarana Bungalows' in Koh Phangan, which is a short 10 minute drive from the Full Moon Party. If you'd like to stay on longer at Sarana after ThaIntro just let us know and we'll book your extra nights. An extra night will cost approximately $25.
Note: There are awesome parties on Koh Phangan throughout the month, including Half Moon parties out in the jungle, Black Moon parties, pool parties, foam parties and more! So if you can't make it to a Full Moon Party don't worry, you'll still have a great time.
DO I NEED A SLEEPING BAG?
All guesthouses and hotels in Thailand provide bedding so there's no need to bring a sleeping bag with you.
BACKPACK OR SUITCASE? AND HOW MUCH SHOULD I BRING?
We recommend bringing a backpack and packing light! 10-20kgs of stuff should be plenty! And because it's so hot in Thailand dragging a 30kg suitcase around isn't much fun!
WILL I GET BY WITHOUT KNOWING THE LANGUAGE?
Yes. The majority of locals in tourist areas such as Bangkok and the popular islands speak English. We recommend learning a few key words such as 'hello', 'thank you' and 'another massage please' to help you get by. We can teach you these and more.
IS THAILAND A DANGEROUS PLACE TO VISIT?
No. Thailand is generally a safe place. With our help, some common sense and respect for the Thai culture you'll be ok.
DO I NEED INJECTIONS BEFORE I GO TO THAILAND?
There are no mandatory injections for Thailand and the areas ThaIntro go to are extremely low risk. Therefore a lot of people don't bother with injections. However some travellers do opt for injections to protect against Hepatitis A, Typhoid and Tetanus. For more info see your doctor or check out this link.
WILL I GET SICK WHILST IN THAILAND?
Yes – if you drink out of the tap, eat food that hasn't been cooked properly, get bitten by a stray dog because you teased it, or drink too much Thai whisky. Otherwise you'll be fine. If you get sick we'll be there to help you.
Processing - Please do not refresh or try to go to another page